Why One Week Bath Has Such a High NPS Score
One Week Bath is proud to have a 76 NPS score!
That is phenomenal considering Louis Vuitton and Toyota don't even breach the 50 NPS threshold! Word of mouth is invaluable. You simply can't buy that kind of 'advertising'. Our high NPS score is due to our continued dedication to improving the customer experience and putting our existing clients first.
By the way, this is NOT a percentage. This is a score based on surveying ALL clients and is a calculation done by the creators of the NPS®.
For perspective, here is a list of TOP Brands and their scores:
The Number Every Consumer and Business Should Know About…
Net Promoter Score®, or NPS®, measures customer experience. This proven metric transformed the business world and now provides the core measurement for customer experience, desire to refer and desire to continue working with a company. What a great tool! 
The trick to retaining clients and obtaining referral clients is really no trick at all. Consumers want to be treated as if their business is important and appreciated. Providing them a great customer experience, stellar services, and outstanding products will result in continued success.
Why should this matter to you?
Since the topic of customer retention and acquisitions can get a bit boresome, there is a way to tell if a company has a solid track record of customer satisfaction, and that's called the Net Promoter Score, or NPS. It should come as no surprise that companies like Apple, Netflix, Tesla, and Amazon all have high NPS scores. Let's delve into what a Net Promoter Score actually is and why it is so useful for both consumers and businesses.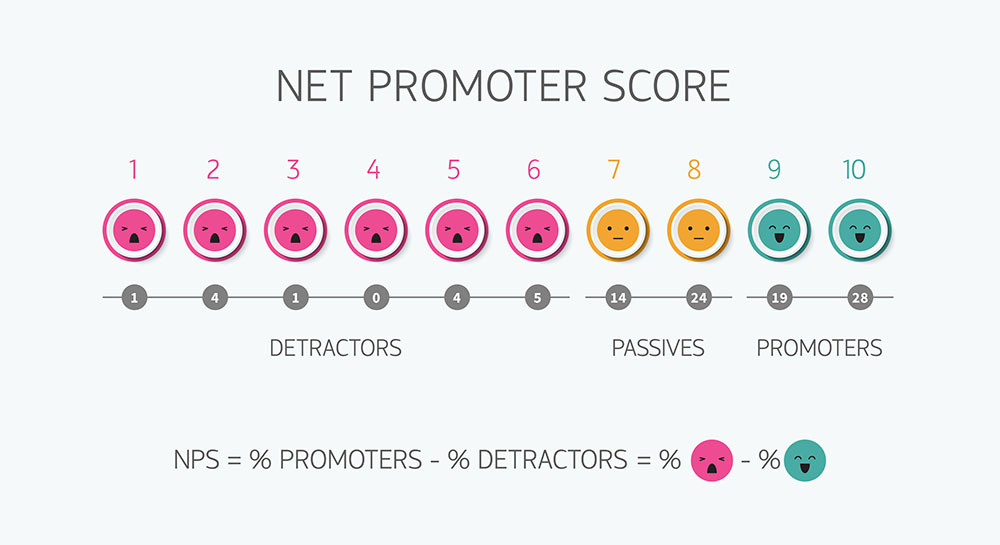 What Is an NPS Score & Why Does it Matter?
Simply put, an NPS score is a method of tracking customer feedback on a scale of 0 to 10. How likely are customers to recommend your product or services to their family and friends? How likely are they to return for future service? How was their overall customer experience? Being able to track these likelihoods is a fantastic way to calculate your overall NPS score.
NPS methodology shakes out like this… Customers who select a score between 0 and 6 are labeled 'detractors' and are most likely to leave a negative review. While customers that select anywhere from 7 and up, and are labeled as 'passives' and 'promoters' and are predicted to stick around and refer others for future business.
The NPS Breakdown:
9-10 on the scale is for customers that are 'promoters' of your brand and business. That means that your product or service has made a positive impact on their lives and that they are the most likely to recommend your company to friends and family.
7-8 on the scale signifies the 'passive' customer. Meaning that the services your company provided met their expectations but didn't exceed them.
1-6 on the scale refers to 'detractors'. Detractors are unlikely to be return customers and will not recommend your business or services to other people.
By investing in customer satisfaction and maintaining, if not improving, the level of service and finished product, we've managed to create a loyal client base. This has led to the acquisition of new clients and cemented us as a trustworthy contractor in the bathroom remodeling industry. 
It has been our continuing mission to provide clients with a stress-less bathroom remodeling experience, while also ensuring that the materials, service and final product is of the highest quality. This makes the customer experience second-to-none and keeps clients coming back year after year. 
With thousands of beautiful bathroom remodels since our inception in 2000, One Week Bath is truly all about the customer experience. Our all-inclusive, design-build process allows homeowners to skip the headaches, hidden expenses, and nonsense, handling every detail from start to finish.