We are continuing our educational articles on bathroom design, product selection, and remodeling. Today we're going to talk about lighting.  Such an important element in the bathroom. We know there are a lot of factors when choosing a lighting fixture. Decisions like placement, rating for location in the space, overall lighting effect, functionality, etc.
First, let's talk about the type of lighting…LED versus incandescent. Most of the cities and counties are requiring that there are LED lighting fixtures in the bathroom.  That doesn't mean LED light bulbs that are put into an incandescent fixture.  Inspectors are going to require that the fixture is actually an LED or Energy Star fixture.  They don't want you to have the choice to change out those bulbs to something non-LED.  Something to be aware of as when permits are involved for your remodel, non-LED fixtures will not pass inspection sign-offs.  Understanding the lighting conversion from the incandescent lighting we are used to, LED can be confusing, but we can help with that so you can get the best and most comparable light possible.
Next, let's discuss the types of lights, location, installation, and implications.  Recessed lights are very common and are a great option for tub or shower areas, maybe a specific spotlight in a toilet compartment. Be aware that you can't put a hanging light fixture over a tub, like a chandelier, unless you have very high ceilings.  An 8' clearance from the top of the tub to bottom of the fixture is required.  As much as you would love to install that light from a stylistic perspective, it is not legal and a recessed can light is the next best option to illuminate that space.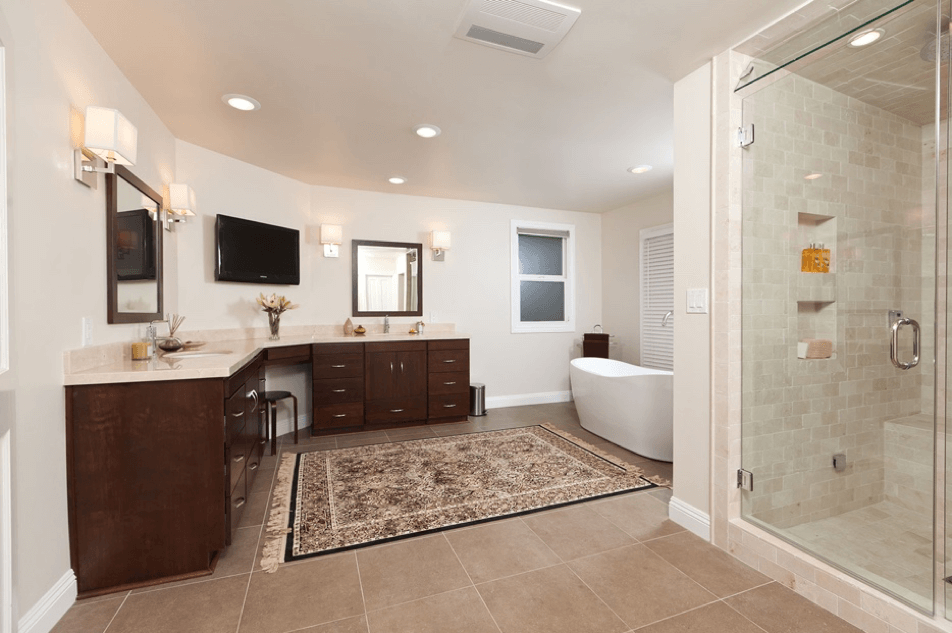 At the vanity, you probably want to look at selections that are wall mounted vs. ceiling mounted. This will project light more forward making it easier to see makeup application, shaving, etc. This can be achieved thru sconces or even lighting that is within the mirrors, often times like you see in hotels.  If choosing sconces that flank a mirror vs. a fixture that is mounted above a mirror, don't forget that those lights are going to affect the width of the mirror that can be used. If your sinks are set in a good distance from the ends of the vanity you will be fine.  When sinks are very close to the outside ends of that vanity, over-mirror lighting on the wall is a better way to go. Some people have recessed lights only over their vanity. They want to go this direction as it's a more modern and clean look. Placement, in this case, is very important. If they're behind you, they're going to cast shadows as the light source is blocked by you, making it harder to see for your activities at the vanity. So, that's why I typically recommend lighting, for best use, to be mounted on the wall vs. recessed in the ceiling only. There are a lot of other types of more ambient lighting such as outlets with illumination, toilet seats with nightlights, LED strip lighting that can be installed around a mirror creating a back-lit glow or under the toe kick at the vanity. These options provide both functionality as well as a softer option to having the room fully lit.
Some other elements to consider when choosing lighting are functionality as well as styling. For function, are you looking for more functional task lighting or overall lighting?  When it comes to the fixture style details, there are multi-globe vanity light fixtures that come with shades in different materials like glass or resin, clear or frosted shades.  There is an array of finishes to choose from to match or compliment the other metal fixtures you have chosen for the room, such as chrome, nickel, bronze or, growing in popularity, brushed gold, and black fixtures. You want to make sure that your lighting fixtures are also speaking to the overall style of your bathroom so that they complement the design aesthetic you create.  A functionality trait to look at, is the rating for that fixture based on the room usage?  A bathroom will need a light that is damp listed to hold up to the moisture that can be in that room.  Paying attention to this will ensure the best longevity and safety for your space.
Thank you for checking in with us to learn a bit more about lighting and its considerations. Go to our website at www.oneweekbath.com where you can see and find more content like this as well as videos from our Soak It Up series, also found directly on YouTube.
Thanks again and we look forward to helping you with your projects!